Barack Hussein Obama
His Early Life
Prepare Your Heart

<![if !supportLineBreakNewLine]>
<![endif]>
<![if !vml]>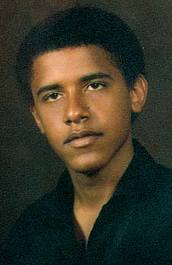 <![endif]>
Early Life
President Obama was born on August 4, 1961. His mother, Stanley Ann Dunham, was born in Wichita, Kansas and was of mostly English descent. His father, Barack Obama, Sr., was a Luo from Nyang'oma Kogelo, Nyanza Province, Kenya. Obama's parents met in 1960 at the University of Hawaii at Mānoa, where his father was a foreign student on scholarship.
The couple married on February 2, 1961. President Obama's mother dropped out of the University of Hawaii after completing the fall 1960 semester, after becoming pregnant. Obama Sr. continued his education. He eventually told Dunham about his previous marriage in Kenya, but said he was divorced—which she found out years later was a lie.
From September 1961 to June 1962, Obama's mother took her son to Seattle, Washington, where she took classes at the University of Washington. President Obama's parents separated when Obama Sr. went to Harvard University on scholarship in September 1962, and divorced in 1964.
Obama Sr. remarried and returned to Kenya, visiting Barack in Hawaii only once, in 1971. He died in an automobile accident in 1982.
After her divorce, President Obama's mother married Indonesian student Lolo Soetoro, who was attending college in Hawaii. When Suharto, a military leader in Soetoro's home country, came to power in 1967, all Indonesian students studying abroad were recalled.
From ages , Obama attended local schools in Indonesia, including Besuki Public School and St. Francis of Assisi School where documents showed he enrolled as a Muslim, the religion of his stepfather.
In 1971, at age nine, Obama returned to Honolulu without his mother to live with her parents, Madelyn and Stanley Armour Dunham. He attended Punahou School, a private college preparatory school, from the fifth grade until his graduation from high school in 1979. During this time, Obama came to know Frank Marshall Davis. Davis and Obama's Grandfather, Stanley Armour Dunham, smoked marijuana together.
Frank Marshall Davis was a national sponsor of American Youth for Democracy, the youth wing of Communist Party USA. American Youth for Democracy replaced the Young Communist League during World War II.
As a Communist Party USA member, Davis did his duty to the Party by being active in many Communist fronts in Chicago and Hawaii.
Davis served on the publicity committee of the Citizens' Committee to Aid Packing-House Workers who were on-strike at the time. The United Packinghouse Workers of America (later the United Packinghouse, Food and Allied Workers) was a labor union that represented workers in the meatpacking industry. Davis served on the publicity committee with Vernon Jarrett. Jarrett's son, Dr. William Jarrett, was married for five years to Valerie Jarrett, now a senior advisor to President Obama.
Frank Marshall Davis, under the pseudonym Bob Greene had authored a hard-core pornographic autobiography published in San Diego in 1968 by "Greenleaf Classics." In an autobiographical manuscript, Davis confirmed that he was the author of Sex Rebel: Black.
He stated that "under certain circumstances I am bisexual" and that he was "a voyeur and an exhibitionist" who was "occasionally mildly interested in sado-masochism." One chapter in the book concerns the seduction by Davis and his first wife of a 13-year-old girl called Anne. He left behind after his death an uncompleted manuscript, "The Incredible Waikiki Jungle," which describes how he "specialized in sex" during the period 1969-1976. Davis also wrote another unpublished manuscript called "Mixed Sex Salad."
President Obama's 1995 autobiography, Dreams from My Father, included several examples of Obama receiving advice from Frank Marshall Davis:
<![if !supportLists]>- <![endif]>Obama's grandmother (Toot) and Gramps have an argument over whether Gramps should give Toot a ride to work after she had been threatened at a bus stop by a black panhandler. Obama looks to Frank to sort it out in his mind. (p. 89-91)
<![if !supportLists]>- <![endif]>When Toot is having difficulty convincing the drug-abusing young Obama to apply for college, it is again Frank who is able to convince Obama that college is necessary. (p. 96-98)
<![if !supportLists]>- <![endif]> Frank tells the young Obama "…you may be a well-trained, well-paid nigger, but you're a nigger just the same." (p. 97)
<![if !supportLists]>- <![endif]>Davis tells Obama that black people "have a reason to hate (white people)" (p. 91). He also advised the college-bound Obama to "keep your eyes open" and "Stay awake" otherwise he would be "trained" against his own interests. (p. 97) Obama explained how he carried out Davis's advice. "To avoid being mistaken for a sellout, I chose my friends carefully. The more politically active black students. The foreign students. The Chicanos. The Marxist professors and structural feminists and punk-rock performance poets." (p. 100)
Obama's mother returned to Hawaii in 1972, remaining there until 1977 when she went back to Indonesia to work as an anthropological field worker. She finally returned to Hawaii in 1994 and lived there for one year, before dying of ovarian cancer.
Obama studied at Occidental College in Los Angeles from 1980 – 1981. Occidental College has sometimes been referred to as the "Moscow" of southern California.
Of his early childhood, President Obama recalled, "That my father looked nothing like the people around me—that he was black as pitch, my mother white as milk—barely registered in my mind." He described his struggles as a young adult to reconcile social perceptions of his multiracial heritage. Obama has also written and talked about using alcohol, marijuana and cocaine during his teenage years to "push questions of who I was out of my mind." At the 2008 Civil Forum on the Presidency, Obama identified his high-school drug use as a great moral failure.
[source]
College Life
Obama studied at Occidental College in Los Angeles for two years, from 1980 – 1981. Dr. John Drew was a classmate of Obama's at Occidental College. Dr. John Drew was interviewed in mid-October 2010 week by Paul Kengor on The Glen Meakem Show. What follows is excerpts from the transcript of the interview:
Kengor: "I interviewed you for my book Dupes a year ago and you had contact me a couple of years ago because you read a piece that I wrote for American Thinker and it was called "Dreams from Frank Marshall Davis" and it was on Obama's background and youth. Frank Marshall Davis was an actual Party member and that's something, John, I spent two or three years on investigating, but there's no question about it... the documentation is there, a 1957 Senate report called him "and identified member of the Communist Party", there's an FBI file that's 600 pages, and I took ten or twelve pages from that report and put it in the appendix of my book. It even lists Davis' Communist Party card number, which was 47544, so very clear. Why is all of this relevant? Well, I think it explains, at least to some degree, that -- if he's not a Communist, he's at least very far to the left -- and has some very left-oriented views. But you met Obama when he left Frank Marshall Davis in 1980 coming from Hawaii and went to Occidental College. So tell us about when Obama got there and when you met."
Drew: "I see myself as Barack Obama's missing link from his exposure to Communism through Frank Marshall Davis and his later exposure to Bill Ayers and Alice Palmer in Chicago. So, as far as I can tell, I'm the only one of Obama's extended circle of friends who's spoken out and verified that he was a Marxist-Leninist in his sophomore year of college, from 1980 to 1981.
...Yeah, my sense is because of affirmative action, guys like me were going to Occidental instead of even better schools and guys like Obama were going to Occidental instead of, uh, less challenging schools. A lot of very successful people were there, were part of Obama's social circle at the time."
Kengor: "Now, was Occidental known for radical left politics? Would that have been an attraction for Obama?"
Drew: "Yeah, I'm certain that it was. It was considered sort of the "Moscow" of southern California. There were a lot of Marxist professors, many of whom I got to know pretty well, not just there but also at Williams College in Massachusetts. Two of the same Marxist-Socialist professors were on the staff with me at Williams.
Kengor: "Frank Marshall Davis was a mentor. He writes about him in Dreams From My Father very warmly, in fact Obama writes that Davis gave him advice on women, on race, on life, on college."
Drew: "Well, this is what I know for sure, and this is why I'd sought you out, to be helpful to the historic record, is to verify that Barack Obama was definitely a Marxist and that, it was very unusual for a sophomore to be as radical, or as ideologically attuned as young Barack Obama was. I think people like David Remnick [a biographer], they make it sound like Frank Marshall Davis had no impact on Obama and that his friend Mohammed Shandu somehow converted him to Marxism at Occidental. And my impression is that Obama was the leader of that group and Obama was already very ardent and committed to Marxism. And Shandu struck me as somewhat more passive. So it doesn't fit the story that I read in Remnick's story The Bridge."
Kengor: "...You said that Obama was introduced to you at Occidental as a Marxist because you were one at that point."
Drew: "Yeah, that's embarrassing, but I had studied Marxist Economics at Sussex College in England. I had a junior year scholarship over there, and did my senior honor's thesis on Marxist Economics when I was at Occidental College. And I actually founded the Democrat Student Socialists' Alliance, under a different name, in 1976... it was as Marxist as you could get, but they come up with a more general name while I was away in England."
Kengor: "...John, you had told me before, and I'm reading from my book, that "Obama was already an ardent Marxist in the fall of 1980 when I met him. I know it's incendiary to say this, but although he said in Dreams From My Father that he'd 'hung out with Marxist professors', he did not explain in that book or clarify is that he was 100% in total agreement with those professors."
Drew: "Yeah, you've got that exactly right. Obama believed, at the time I met him, this was probably around Christmas time in 1980. I'd flown out on Christmas break from Cornell, where I was in grad school. And Obama was looking forward to an imminent social revolution, literally a movement where the working classes would overthrow the ruling class and institute a kind of socialist Utopia in the United States. I mean, that's how extreme his views were his sophomore year of college."
...I was a comrade, but I was more... the Frankfort School of Marxism at the time. I was, I felt like I was doing him a favor by pointing out that the Marxist revolution that he and Caroline and Shandu were hoping for was really kind of a pipe-dream. And that there was nothing in European history, or the history of developed nations, that would make that sort of fantasy, that Frank Marshall Davis fantasy of revolution, come true."
Kengor: "So you had a realistic sense that, even though you liked these ideas, that you knew they wouldn't really work?"
Drew: "Right... [There were some] who were puzzled why they didn't see Marx's predictions come true, and weren't interested in the role of psychology or false consciousness in preventing a revolution from happening. I was a card-carrying Marxist, but I was more of an east coast, Cornell University Marxist at that time."
Kengor: "But Obama thought it was practical. He thought it could happen in America?"
Drew: "Oh, yeah! He thought I was a little reactionary... or insensitive to the coming needs of the revolution! He was full-bore, 100% into that very, kind of simple-minded Marxist revolutionary framework."
Kengor: "And, also at this time, this is 1981, Jimmy Carter was President [?] and Ronald Reagan was yet to call the Soviet Union 'the Evil Empire' when he becomes President. Did you have talk about the election, about Reagan. I mean, that must have really upset Obama?"
Drew: "You know, it's so long ago. My clearest recollection was that we were more concerned with more U.S. intervention in Latin America and the repression of Communist and Socialist forces like the Sandanistas and things like that... this sound weird, but there was part of me at the time that was ready to go off and fight with the Sandanistas against the Contras. I was pretty crazy, Paul..."
Kengor: "Now this gets to a critical point and I know Obama supporters want me to ask this... to be fair, look where you were then and where you are today..."
Drew: "Oh, yeah. Now I'm a Ronald Reagan, church-going, Baptist conservative, so..."
Kengor: "So, what about Obama. That's the... trillion dollar question? ...We have to know this stuff about our Presidents, you can't leave this about biographies..."
Drew: "Well, I think that he, I've challenged President Obama to explain how he evolved this Marxist-Leninist viewpoint he had in his sophomore year of college. And he's just never articulated how he changed. In fact, he's buried and, I think, lied about his ideological convictions of his youth. And we can trace it all the way to Alice Palmer, I think, in 1995 [the Illinois state senator who he replaced]... who attended the Communist Party "Politburo" event. Or she was part of a big international Communist convention in Moscow!"
Kengor: "...And Palmer was with Obama in the living room of Bill Ayers and Bernardine Dohrn when -- and The New York Times even wrote about this -- there was sort of a political blessing, where Palmer identified Obama as his chosen successor..."
Drew: "...Well, I think I can knock down some doors here by stating that he had a very consistent ideology, I think, probably from the time he was in [Hawaii] to the time he was with Palmer and Ayers in Chicago. I think his current behavior demonstrates that he still has some ideological convictions. When ever he talks about taxing the richest two-percent? I think he knows that will harm the economy. To him, the redistribution of wealth is extremely important. And he never took economics or science like I did. He went straight to law school, never had any business experience, never had a payroll to meet. And I think he's locked in a very dangerous mindset, where if he didn't fight to redistribute the wealth that he'd be violating [his] ideology.
...You see people like Van Jones, who's an admitted Communist, you see Anita Dunn, who's praising Mao Tse-Tung, to me, it's like Obama's Marxist-Socialist ideology is hiding in plain sight! It's frustrating to me. It seems to me like people should be up in arms about this!
...I think whenever he talks about people clinging to their guns and religions due to economic stress, that's just the standard Marxist argument... he's still using the standard Marxist architecture, the way he talks about things. I think he's surrounded by people who share that mental architecture!
...I feel like our nation's life is at stake."
[Source]
Obama studied at Columbia University for two years, from 1982 – 1983. Wayne Allyn Root was a classmate of Obama's at Columbia University. Wayne Allyn Root. What follows is what Wayne Allyn Root has volunteered:
<![if !vml]>
<![endif]>
"Rahm Emanuel cynically said, 'You never want a crisis to go to waste.' It is now becoming clear that the crisis he was referring to is Barack Obama's presidency.
Obama is no fool. He is not incompetent. To the contrary, he is brilliant. He knows exactly what he's doing. He is purposely overwhelming the U.S. economy to create systemic failure, economic crisis and social chaos -- thereby destroying [our competitive, free market] capitalism and our country from within.
Barack Obama is my college classmate (Columbia University, class of '83).
Obama is following the plan of Cloward & Piven, two professors at Columbia University. They outlined a plan to socialize America by overwhelming the system with government spending and entitlement demands. Add up the indications, some of which are below. Taken individually they're alarming. Taken as a whole, it is a brilliant, Machiavellian game plan to turn the United States into a socialist/Marxist state with a permanent majority that desperately needs government for survival ... and can be counted on to always vote for bigger government. Why not? They have no responsibility to pay for it.
-- Universal health care. The health care bill had very little to do with health care. It had everything to do with unionizing millions of hospital and health care workers, as well as adding 15,000 to 20,000 new IRS agents (who will join government employee unions). Obama doesn't care that giving free health care to 30 million Americans will add trillions to the national debt. What he does care about is that it cements the dependence of those 30 million voters to Democrats and big government. Who but a socialist revolutionary would pass this reckless spending bill in the middle of a depression?
-- Cap and trade. Like health care legislation having nothing to do with health care, cap and trade has nothing to do with global warming. It has everything to do with redistribution of income, government control of the economy and a criminal payoff to Obama's biggest contributors. Those powerful and wealthy unions and contributors (like GE, which owns NBC, MSNBC and CNBC) can then be counted on to support everything Obama wants. They will kick-back hundreds of millions of dollars in contributions to Obama and the Democratic Party to keep them in power. The bonus is that all the new taxes on Americans with bigger cars, bigger homes and businesses helps Obama "spread the wealth around."
-- Make Puerto Rico a state. Why? Who's asking for a 51st state? Who's asking for millions of new welfare recipients and government entitlement addicts in the middle of a depression? Certainly not American taxpayers. But this has been Obama's plan all along. His goal is to add two new Democrat senators, five Democrat congressman and a million loyal Democratic voters who are dependent on big government.
-- Legalize 12 million illegal immigrants. Just giving these 12 million potential new citizens free health care alone could overwhelm the system and bankrupt America. But it adds 12 million reliable new Democrat voters who can be counted on to support big government. Add another few trillion dollars in welfare, aid to dependent children, food stamps, free medical, education, tax credits for the poor, and eventually Social Security.
-- Stimulus and bailouts. Where did all that money go? It went to Democrat contributors, organizations (ACORN), and unions -- including billions of dollars to save or create jobs of government employees across the country. It went to save GM and Chrysler so that their employees could keep paying union dues. It went to AIG so that Goldman Sachs could be bailed out (after giving Obama almost $1 million in contributions). A staggering $125 billion went to teachers (thereby protecting their union dues). All those public employees will vote loyally Democrat to protect their bloated salaries and pensions that are bankrupting America. The country goes broke, future generations face a bleak future, but Obama, the Democrat Party, government, and the unions grow more powerful. The ends justify the means.
-- Raise taxes on small business owners, high-income earners, and job creators. Put the entire burden on only the top 20 percent of taxpayers, redistribute the income, punish success, and reward those who did nothing to deserve it (except vote for Obama). Reagan wanted to dramatically cut taxes in order to starve the government. Obama wants to dramatically raise taxes to starve his political opposition.
With the acts outlined above, Obama and his regime have created a vast and rapidly expanding constituency of voters dependent on big government; a vast privileged class of public employees who work for big government; and a government dedicated to destroying [our competitive, free market] capitalism and installing themselves as socialist rulers by overwhelming the system.
Add it up and you've got the perfect Marxist scheme -- all devised by my Columbia University college classmate Barack Obama." 
- Wayne Allyn Root, Columbia University college classmate of Barack Obama
<![if !vml]>
<![endif]>
President Obama is the Best … at Making Up Stuff
Narcissistic Personality Disorder (NPD)
Sam Vakinin, Ph.D is an Israeli who authored the book, "Malignant Self-love: Narcissism Revisited" - a book that many dub the 'Bible' of books on narcissism. Vaknin submits the following:
"Barack Obama appears to be a narcissist. Granted, only a qualified mental health diagnostician (which I am not) can determine whether someone suffers from Narcissistic Personality Disorder (NPD) and this, following lengthy tests and personal interviews. But, in the absence of access to Barack Obama, one has to rely on his overt performance and on testimonies by his closest, nearest and dearest.
…Narcissistic leaders are nefarious and their effects pernicious. They are subtle, refined, socially-adept, manipulative, possessed of thespian skills, and convincing. Both types equally lack empathy and are ruthless and relentless or driven.
…Obama's early life was decidedly chaotic and replete with traumatic and mentally bruising dislocations. Mixed-race marriages were even less common then. His parents went through a divorce when he was an infant (two years old). Obama saw his father only once again, before he died in a car accident. Then, his mother re-married and Obama had to relocate to Indonesia: a foreign land with a radically foreign culture, to be raised by a step-father. At the age of ten, he was whisked off to live with his maternal (white) grandparents. He saw his mother only intermittently in the following few years and then she vanished from his life in 1979. She died of cancer in 1995.
Pathological narcissism is a reaction to prolonged abuse and trauma in early childhood or early adolescence. The source of the abuse or trauma is immaterial: the perpetrators could be dysfunctional or absent parents, teachers, other adults, or peers…"
Learn more about Barack Obama and NPD.
Learn more about why the effects of President Obama's policies are pernicious.
<![if !vml]>
<![endif]>