Immigration
Understanding Our Need for Another Look
<![if !vml]>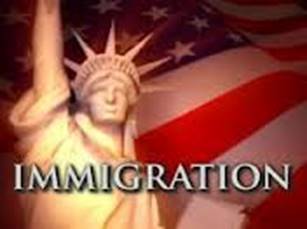 <![endif]>
Immigration: Learning from History
Understand the necessity of a moral government
Immigration, World Poverty and Gumballs
The "Refugees" Scam Coming to Your Town 101
Immigration in the National Interest
Does Diversity Really Unite Us? Citizenship and Immigration
What Changed with the Mexico Border at San Diego?
In 1986, the San Diego Border Patrol sector accounted for approximately one-third of all apprehensions along the U.S.-Mexico border. Today, it accounts for only a small fraction. How did the region go from one of the busiest sectors for illegal border crossings to one of the most secure? And have there been any tangible civic benefits? Video report: Visit the U.S.-Mexico border in San Diego for just four minutes and thirteen seconds to find out.
Final 2017 Report on Incarcerated Illegal Immigrants
More than 1 in 5 of all federal inmates in the U.S. Bureau of Prisons are immigrants, as of the end of the fiscal year 2017, a federal report released December 21, 2017 said.
The report also found that 94 percent of confirmed foreign-born inmates in federal incarceration were in the country illegally.
The report also found that about two-thirds of all immigrants in the custody of U.S. Marshals Service were in the United States illegally.
"This shows undeniably the need to secure the southern border to prevent many of the crimes from occurring," a senior administration official said.
A senior administration official cited U.S. Sentencing Commission data from fiscal year 2016 that found almost one-third of drug trafficking crimes and more than two-thirds of drug-use crimes came from foreign-born offenders, both legal and illegal.
The report found 58,766 known or suspected aliens were in Justice Department custody at the end of fiscal 2017, or Sept. 30. That included 39,455 persons incarcerated by the Bureau of Prisons, or BOP, and another 19,311 held by the U.S. Marshals Service, or USMS.
The report continues:
Of this total, 37,557 people had been confirmed by U.S. Immigration and Customs Enforcement (ICE) to be aliens (i.e., non-citizens and non-nationals), while 21,209 foreign-born people were still under investigation by ICE to determine alienage.
Among the 37,557 confirmed aliens, 35,334 people (94 percent) were unlawfully present. These numbers include a 92 percent unlawful rate among 24,476 confirmed aliens in BOP custody and a 97 percent unlawful rate among 13,081 confirmed aliens in USMS custody.
"The American people deserve a lawful system of immigration that serves the national interest," Attorney General said in a statement issued December 21, 2017. "But at the border and in communities across America, our citizens are being victimized by illegal aliens who commit crimes."
The Attorney General added:
Nearly 95 percent of confirmed aliens in our federal prisons are here illegally. We know based on sentencing data that noncitizens commit a substantially disproportionate number of drug-related offenses, which contributes to our national drug abuse crisis.
The simple fact is that any offense committed by a criminal alien is ultimately preventable. One victim is too many. It's time for Congress to reform our immigration agenda so that we start welcoming the best and brightest while turning away drug dealers, gang members, and other criminals.
"As of September 28, 2017, a total of 24,476 confirmed aliens were housed in BOP facilities, and an additional 14,979 foreign-born individuals in BOP facilities remained under ICE investigation; together these known and suspected aliens accounted for 21 percent of all federal inmates in BOP custody," the report says.
The report continues:
As of October 2, 2017, a total of 19,311 known and suspected aliens were housed in USMS facilities. Of the confirmed aliens in USMS custody, 66 percent (12,720) were unlawfully present, including 11,459 aliens (59 percent) with an administrative final order of removal and 1,261 aliens (6.5 percent) who were unlawfully present but pending adjudication in removal proceedings.
National Day of Remembrance of Americans Killed by Illegal Aliens
U.S. Immigrant Population at an All-Time High
The number of immigrants both legal and illegal in the United States hit a new record of 40 million in 2010, a 28 percent increase from 2000, a wide-ranging new report reveals.
And the number of immigrants plus their children born in this country now stands at around 50 million, accounting for about one-sixth of the U.S. population, according to Steven A. Camarota, director of research for the Center for Immigration Studies. His report — "Immigrants in the United States, 2010: A Profile of America's Foreign-Born Population" — is based on U.S. Census Bureau data from 2010 and 2011.
"One of the most important findings is that immigration has dramatically increased the size of the nation's low-income population," Camarota writes, adding that even immigrants who have been in the country for 20 years are much more likely to live in poverty, lack health insurance, and take advantage of welfare benefits than are native-born Americans.
The all-time high of 40 million immigrants is up sharply from 9.6 million in 1970, although the immigrant share of the population, 12.9 percent, is lower than it was in 1910 — 14.7 percent.
New immigration both legal and illegal plus births to immigrants added 22.5 million residents over the last decade, accounting for 80 percent of the total U.S. population growth.
The Center estimates that at least 28 percent of immigrants are in the country illegally.
Camarota also points out that between 12 million and 15 million new immigrants, legal and illegal, are expected to settle in the United States in the next 20 years.
Other findings of the Center's study include:
In March 2011, 68 percent of immigrants aged 18 to 65 held a job, the same as for natives.

In 2010, 23 percent of immigrants and their U.S.-born children under age 18 lived in poverty, compared to 13.5 percent of natives and their children.

Among countries accounting for the most immigrants in the United States, poverty is highest for those from Mexico (35 percent), Honduras (34 percent), and Guatemala (31 percent), and lowest for Germany (7 percent) and India (6 percent).

36 percent of immigrant-headed households used at least one major welfare program in 2010, primarily food assistance and Medicaid, compared to 23 percent of native households.

29 percent of immigrants and their American-born children lacked health insurance that year, compared to 13.8 percent for natives.

10.4 million students from immigrant households are in public schools, and 78 percent of them speak a language other than English at home.

For over a quarter century, the United States has accepted an average of 1 million immigrants annually—the equivalent of adding the entire state of Montana each year.

When only 1 out of every 15 immigrants arrives in the United States on a skills-based visa,

the majority of

the remaining immigrants are either low-skill or unskilled.
This generation-long influx of low-skilled labor has been a major factor in

the downward pressure on the wages of working Americans

,

with the wages of recent immigrants hardest hit.

Wages for Americans with only high school diplomas have declined by 2 percent since the late 1970s, and for those who didn't finish high school, they have declined by nearly 20 percent.

This collapse in wages threatens to create a near permanent underclass for whom the American Dream is always just out of reach.

Self-employment is highest among immigrants from Korea and Canada and lowest among those from Haiti and Honduras.

Of adult immigrants aged 25 to 65, 28 percent have not completed high school, compared to 7 percent of natives.

Immigrants account for 27.2 percent of the population in California, 22.2 percent in New York, and 21 percent in New Jersey, but just 1.2 percent in West Virginia.

The state showing the largest increase in immigrant population from 2000 to 2010 was Alabama, up 92.1 percent, followed by South Carolina (88.4 percent), and Tennessee (81.8 percent). New York was lowest (11.1 percent). Remarkably, the immigrant population in North Carolina rose a whopping 524 percent from 1990 to 2010.

Of those immigrants in the United States in 2010, the greatest number came from Mexico, 11.7 million, followed by China/Hong Kong/Taiwan (2.1 million), India (1.78 million), Philippines (1.77 million), and Vietnam (1.2 million).
The "Diversity Visa Lottery" is sadly outdated. It is plagued with fraud, it advances no humanitarian interest or economic interest, and it does not even deliver the diversity of its namesake.
Another interesting fact the report has brought to light: While many Americans believe immigrants dominate in a number of professions, the fact is that natives account for 52 percent of maids, 73 percent of janitors, and 66 percent of construction laborers. The only category where immigrants form a majority is "Farm Workers Non-Supervisors," at 53.5 percent.
The Night That Changed Germany's Attitude To "Refugees"
The Top 10 Immigration Problems Explained Concisely
The Obama administration and Marxism marched in unison on immigration for 8-years
The Immigration Dispute is All About Power
Confirmed: The Democrats' Version of Immigration is All About 'Securing Votes'
Former assistant to former President Obama, Jennifer Palmieri, of the Center for American Progress finally let the cat out of the bag in January, 2018, by admitting something that's been obvious, and that is that the Democrats' version of immigration is all about securing additional votes:
The Center For American Progress Action Fund distributed a memo saying illegal immigrants brought into the United States at a young age are a "critical component of the Democratic Party's future electoral success."
In fact, a report suggested that four or five GOP-majority states could be shoved into the Dems' column if those hundreds of thousands of illegal aliens abruptly are given the vote.
The memo was sent by Palmieri to allies asking Democrats to "refuse to offer any votes for Republican spending bills that do not offer a fix for Dreamers and instead appropriate funds to deport them." In essence, it was a call to shut down the government, since its funding was due to run out the following week unless the GOP and Democrats agree on further spending.
The memo explained if "Dreamers" don't get the vote, it would "jeopardize Democrats' electoral changes in 2018 and beyond."
African American unemployment vs. immigrant employment (30-seconds)
Sensible Solutions to the Immigration Problems
Socialism, 'An Intermediate Stage'
A communist revolution is a proletarian revolution inspired by the ideas of Marxism that aims to replace capitalism with communism, typically with socialism (state-run means of production) as an intermediate stage. The idea that a proletarian revolution is needed is a cornerstone of Marxism; Marxists believe that the workers of the world must unite and free themselves from "capitalist oppression" to create a world run by and for the working class. Thus, in the Marxist view, proletarian revolutions need to happen in countries all over the world.  [Source]
More Than One System of 'Capitalism'
Note that socialism and communism are also forms of 'capitalism.' It's important to understand the systems of capitalism. Free market capitalism's capital is money. Socialism's and communism's capital is people. Is the free market capitalism moral?
And this video interview of Dr. Thomas Sowell can sum it up well.
Understand Our Need for Government and its Real Nature
Understand Socialism's Real Nature
As we wrestle with weighty matters, it is critical that followers of Jesus turn to Scriptures for guidance as much as possible.
See Separation of Church and State
Understand Islam's Real Nature
Understand the Same Sex Sexuality Movement's Real Nature
Were We Causing Global Warming -er- "Climate Change?"
See the 21-fold Plan of God